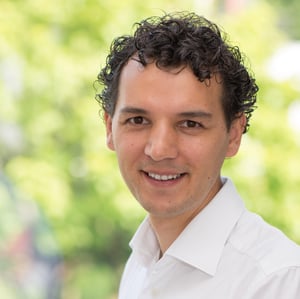 Arthur Post Uiterweer, current Chief Commercial Officer of Quantib, has been named CEO of Quantib effective February 1, 2018. Rudolf Scholte, Founder and CEO, will remain on the Board of Directors to facilitate handover and support the new leadership starting the next chapter.
"Arthur is exactly the right leader for the ambitious new growth phase we have entered with Quantib." said Scholte. "He has the rare combination of great commercial intuition and a deep-rooted passion for machine learning."
A graduate from the University of Cambridge, Post Uiterweer, began his career at The Boston Consulting Group where he focussed on growth strategies and advising M&A integrations. Since then, he has spent most of his career working as director and senior director for Philips Healthcare. In the APAC region he oversaw an increasingly large portfolio of radiology and interventional therapy products ultimately accountable for €300 million revenue.
Quantib is an artificial intelligence company active in the field of medical imaging. The growing team of 18 employees recently secured €4.5mln fresh funding and now consists of 12 data scientists & deep learning engineers. Quantib has several machine learning products with FDA and CE approval on the market and is rapidly expanding its product pipeline.
"I am thrilled to take on this new challenge" Post Uiterweer said. "Machine learning is the best place to be within the medical imaging space, especially if you're surrounded by the best engineers in the field. There is an enormous opportunity waiting to be unlocked and Quantib is very well positioned to make an impact."
"Arthur brings great refreshed vision to Quantib and the strategic insights required to steer the company through this rapidly changing industry" said Harm-Jan Wessels, chairman of the Supervisory Board.
Scholte founded Quantib as a spin-off from Erasmus Medical Centre, together with Professor Wiro Niessen in 2012, after 25+ years of executive leadership positions in a broad range of companies mostly in the nuclear medicine, radiotherapy and radiology fields. "Rudolf has done an incredible job building such a high-quality company from the ground up" Wessels said. "The plan for CEO transition was started in 2016 and comes to completion now. The Supervisory Board is thankful to Rudolf for the foundation he put in place for a company that is now ready for scale-up."