RSNA is by far the largest annual meeting that covers radiology. Although based in the U.S., thousands of radiology professionals and specialized radiology vendors worldwide meet in Chicago every year to share knowledge, experience and innovation with the common goal of advancing the ever-changing radiology field.
In this blog post we will be sharing a few simple tips to follow if you'd like to get the most out of RSNA 2021.
List your "must-go" booths, but also spend some time exploring the conference halls
The RSNA annual meeting offers a multitude of exhibitors, all specialized in different sub fields of radiology. Probably more than you can physically visit in the limited amount of time. For that same reason, we recommend checking before hand which exhibitors are attending and make a list of those booths you absolutely do not want to miss.
For that, we recommend visiting the RSNA's interactive map in which you will be able to check out and download the floor map. This floor map allows visitors to explore both convention halls, and search exhibitors by product category, name or keyword. Take into account that RSNA exhibitors are placed based on their category so, if you are interested to visit the AI vendors, all of them will be situated close to each other in an area highlighted in the floor map as AI Showcase.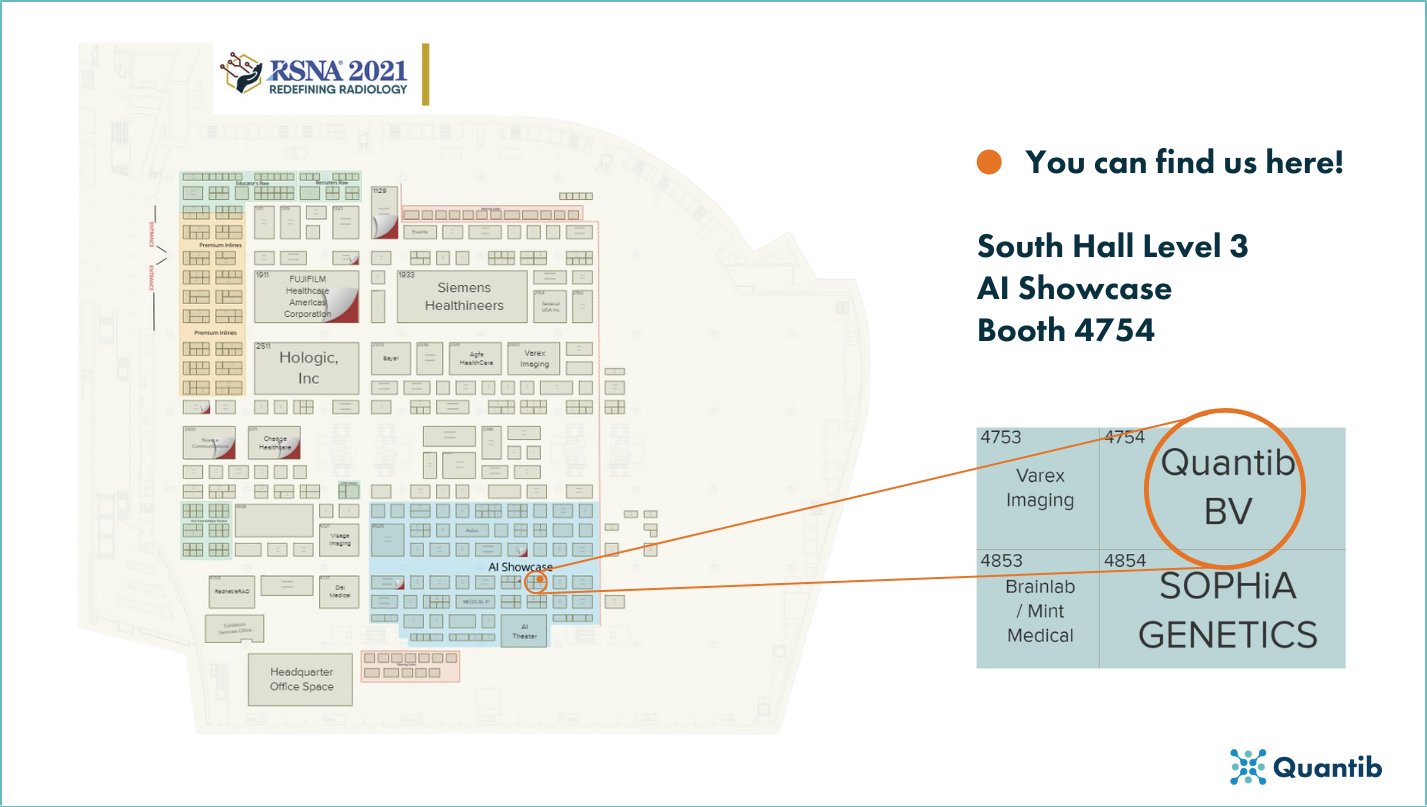 Figure 1: The RSNA - South Hall floorplan and where can you find Quantib during your visit.
However, we also recommend taking some time to wander around and be surprised by what you come across. The all too familiar industry giants will most probably be front and centered in the North and South Halls but there are a plethora of hidden gems in the smaller back alleys of the exhibitor section. Along with surprising solutions that will help you in your daily practice, you may stumble upon some inspiring companies offering new technologies and solutions that you want to keep an eye on in the coming years.
Have a look at the sessions we are looking forward to the most!
The offer of presentations is overwhelming. Make it a point to check the program beforehand and mark your favorite sessions in your calendar to learn about updated guidelines, groundbreaking research and innovative advances.
Are you interested in the field of AI in prostate cancer? Then we would recommend attending the following events:
1. Genitourinary (Pelvis and Prostate) Session - November 28 at 14:30 CST
"A Fully Automated Deep Learning Pipeline For The Detection Of Clinically Significant Prostate Cancer Using Multiparametric MRI"

by Jason Cai.

"MRI‐targeted Fusion Prostate Biopsy: Impact Of Additional Systematic Cores And Reasons For Missing Clinically Significant Prostate Cance

r" by Lars Schimmoeller
2. Genitourinary (Prostate I) Session – November 29 at 13:30 CST
"A Randomized Controlled Trial On The Role Of MRI For Prostate Cancer Screening ‐ Prostate Cancer Secondary Screening In Sapienza ‐ PROSA: Preliminary Results" by

Emmanuele Messina
3. Genitourinary (Prostate II) Session – November 29 at 15:00 CST
"The Cost‐effectiveness Of Prostate MRI: Different Biopsy Strategies In Men With Suspected Prostate Cancer" by

Maarten de Rooij
4. Genitourinary (Prostate III) Session – December 1st at 8:00 CST
"Comprehensive Analysis Of MR‐Based Imaging Characteristics Of Prostate Lesions Against PIR

ADS Assessment Guideline And Correlations With Gleason Scores" by

Amin Katouzian
Separate the wheat from the chaff: ask these questions!
There are many interesting companies at RSNA offering valuable solutions, but not all solutions may be for you. If you have a specific challenge in mind, you are looking to solve with a product offered at the RSNA exhibition, you may want to prep yourself with a set list of questions. This will allow you to compare different solutions apples for apples and get to the right buying decision.
On that note, we would like to advance you some of the questions we think are most important to ask AI radiology vendors:
What was your input data training set?
The quality of the algorithm and, with that, of the AI solution itself will strongly depend on the data used to train said algorithm. It may seem obvious - the larger the dataset, the more resilient your algorithm should be. However, in practice, there are other things to take into account, such as, in case of an imaging-focused algorithm, the type of scanners used to obtain the input scans or the ethnic variability in subjects. The more varied the training data is, the better the algorithm will be able to cope with the differences that clinical situations generally provide.
What options do you offer to integrate your software in the clinical practice?
It is very important to make sure the product you choose will fit smoothly into your current workflow and will not require any big changes in order to work properly.
Do you want to learn more about how to implement AI solutions into the clinical practice? Then check out our blog on different AI software integation options?
Is the solution FDA/CE marked?
Likely not a surprising one, but still a very, if not the most, relevant question. Without regulatory approval, you will not be able to make full clinical use of these software products so, before you get too excited about an AI software product, ask this question to make sure you can actually put it to work!
How will this product impact my daily workflow and that of my colleagues?
If the AI software is (also) used by other physicians, make sure you understand how it impacts your workflow. For example, an AI software primarily used by radiologists may produce an improved report that will help urologists get the right insights faster and is more efficient and useful for MDTs and, in turn, for the rest of the physicians involved in the diagnosis process.
Identified some not to miss exhibitors? Schedule your demos in advance!
Conferences and exhibitions are busy times for everyone involved and, at the end of the day, there is only so much time to do everything. You will surely be very busy, and the delegates of some companies may be so as well. To avoid missing out on learning more about the state-of-the-art solutions you wanted to see most, we recommend to pre-schedule your demos when possible.
Are you interested in getting to know Quantib? Then schedule your demo with us now and get too meet us! You can find us in booth 4754.
Network, network, network
Lastly, you may not be the social butterfly per se (or maybe you are!), but talking to people may be just as valuable as gathering insights from inspiring talks. So be open to talking to new individuals in the coffee line, during lunch or in the corridors. Learn more about their work and research and you may collect smart tips, tricks and inspiration.
Some of the products and research you come across may not be interesting to you or feasible to put into practice on the short term, but it may solve a problem in the future.
You never know when you might need a contact, so try and diversify your network as much as possible and do not hesitate to ask for peoples' contact details.
And there you go! You'll be able to implement these tips and make sure you will be fully prepared for RSNA in little time. The only thing that remains is for us to wish you a wonderful fruitful time at RSNA, please stop by our booth (#4754) and enjoy our stroopwafels!